Author Archive for: Dotson Iron Castings
About
Dotson Iron Castings
Dotson Iron Castings is a one-stop shop for all of your ductile iron casting, machining, painting and heat treatment needs. Along with value added services, Dotson also offers industry-leading lead times, top notch engineering, and unparalleled customer service. Dotson is employee owned, and the owners are focused on continuous improvement in all areas of the business in order to deliver value and, most importantly, agility to you.
Entries by Dotson Iron Castings
Dotson employees were recently recognized as "Volunteer of the Month" in the "Feed Our Communities Partners" monthly news letter.
Denny Dotson and Jean Bye were named runners-up for Business Person of the Year 2016 by Connect Business Magazine.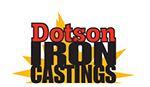 Where innovation, teamwork, and a desire for excellence combine to delight our customers, provide a rewarding workplace for our employees, and generate profits for stability and growth.