Casting Call:
Part Plays Lead Role Then Pays for Itself
Kim Phelan
August 11, 2020
Opening scene: The stage is a foreboding crop field a farmer must till, and fast. But his ground is never the same––rocks lie hidden or it may be covered in cornstalk debris from the last harvest. Enter the star: a new tillage machine from Summers Manufacturing (Devils Lake, North Dakota) loaded with market-first features direct from farmers' wish lists, including the strength and stamina to hit a hard object and keep going without a glitch.
To pull off this complex engineering drama, set in early 2018, a new part needed to be cast perfectly for a leading role. Literally.
Summers partnered with AFS Corporate Member Dotson Iron Castings (Mankato, Minnesota) to design and produce an iron casting component for Summers' new VRT Renegade, and the foundry not only achieved the manufacturer's much-needed labor savings and compressed time requirements––but, in the end, produced an almost unheard of ROI for Summers upon their first machine order. And the large annual savings that followed? Pure, abundant gravy.
"Most customers would be very happy with a one-year return on investment, but with this project the savings were so huge it paid off in less than two months," said Jim Headington, Dotson's technical sales manager. "The savings per casting times the annual usage came out to a total annual savings of $96,000.
"This wasn't Summer's first rodeo," he added. "They have a talented engineering group and they saw right away the advantages of moving this to a casting.
A Better Way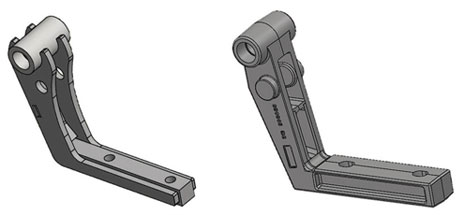 The solid trip arm casting for Summers' new VRT Renegade replaced a C-shank part carried over from previous models of the machine. The C-shank––a U-shaped piece of spring steel––was integral to the company's new disc trip system that makes the Renegade uniquely adjustable, said Summers Design Engineer Paul Wilhelmi. There was just one problem.
"One of the issues we saw on the original VRT was the bending and the breaking of those C-shanks because of the aggressive tillage we were trying to do at high speeds," he said. "We were looking for a solution to the bending and breaking of the C shank."
Actually, breakage wasn't the shank's only issue––in the Renegade prototype, this part comprised five individual fabricated pieces, each requiring 30 minutes to weld and a total of one-and-a-half man hours per fabrication. With 32 to 48 total trip-arm components required for every finished 25- or 40-foot unit respectively, that labor time was a manufacturing deal-breaker.
That's when Wilhelmi and one of his engineering colleagues started looking for alternatives while studying their CAD screen one afternoon, and they realized converting the C-shank to a casting was the answer. Their company had enjoyed a beneficial relationship with Dotson for some 13 years, which made them a logical phone call, but trusting Dotson to handle the design and execution hinged on more than rapport.
"Depending on the capacity of our engineering group, we will sometimes design a cast part internally," Wilhelmi said. "But we didn't have the capacity at that point in time––we were busy making refinements to the rest of that product line along with all the other products we build here. We chose Dotson, No. 1, because they had the engineering resources to do the majority of the design work on the casting. And No. 2 was Dotson's short lead times."
Wilhelmi's goal was to get the entire project––from design to tooling to finished machined pieces––done in six months and he hit the mark in five, partly due to rapid turnaround on the casting. As it happens, new-product lead times are something of a specialty for Dotson.
"A lot of folks turn to us when they need newly designed castings up and running in a short amount of time," said Headington.  "Our engineering team has developed a very robust new job start-up process, and as a result we're often able to build new tooling and provide samples in four weeks or less.  In this case, there was a lot of back and forth during the design stage, so it was key that our engineering teams worked really well together."
Getting Down to Business
The Renegade's primary function is to achieve aggressive tillage at high speeds. The job of the iron trip arm is to firmly but flexibly hold and position the disc blades, which are among the many features operators can adjust remotely on the fly using an iPad in the tractor cab. Strength was paramount because the trip arm has to absorb impact forces when disc blades hit rocks or other obstructions in the field.
Once Wilhelmi sent his CAD concept to Dotson, Jake Hogan, one of the foundry's design engineers, got to work tackling numerous challenges.
His early Magma simulations showed several isolated sections of the part would require feed metal and/or modifications to section thickness in order to produce a sound casting.
It was also up to Hogan to figure out how to take as much weight as possible out of the trip arm; he did so by adding lightener pockets. The raw casting ended up at 22 ½ lbs., then just over 20 after machining.
"The more metal that's required for a casting, the more it's going to drive the price up, so anywhere we can reduce material is going to help with reducing the mold weight," said Hogan. "And in some situations, it helps reduce the section size, which is going to help ensure the casting solidifies properly."
In total, Hogan ran his design through 10 different Magma simulations to verify how the casting would solidify.
"We ended up making eight different modifications and ran four different gating systems to get to where we are now, said Hogan. "With the overall size of the casting, we knew fitting two impressions on the plate was going to be a challenge right away.  We also had to find room to get multiple risers on each casting, which really added to the challenge.  Looking back at it now, it is very tight on the pattern plate––but with our 60% yield, I think we did a really good job with that."
The gating design wasn't easy either, Headington added.  "Jake did a terrific job coming up with a gating system that addressed a number of isolated sections, and that was a big part of being able to make a sound casting and of this being a success."
Using 3D-printing for lights-out efficiency, several iterations of Hogan's compact gating system finally resulted in zero porosity predicted in the casting simulations, which were confirmed by castings sectioned during the start-up.
Converting Summers' part to a solid casting produced some additional physical benefits. For example, when the trip arm was originally a fabrication, Summers had to press bushings into a hole to keep a pin from rotating and causing undue wear, Wilhelmi explained. But because it was a casting, the engineers were able to add an anti-rotation feature that retains the pivot pin. Essentially, the casting eliminated an extra step in the process––one that was awkward and difficult to do, he added, based on the geometry of the trip itself. Additionally, by converting the trip arm to a casting, the engineering teams were able to add material to high-stress areas and remove material from less critical areas.
Dotson Design Engineer Jake Hogan was part of the design team that developed the award winning casting solution.
Ironed Out
Sometimes you don't fully appreciate the value of a vendor till something goes wrong, which it invariably does. Dotson proved to be an efficient "paramedic" partner when Summers experienced a slight problem in the trip arm's otherwise smooth development process. It happened while the Renegade was being field-tested.
"It was early on in the production, Wilhelmi recalled. "We began to see some breakage in extremely rocky conditions, like maybe 1% failure rate. But it just so happened that it was two customers that are pretty much right here in our backyard. We were able to keep close tabs on it, and it was becoming apparent that this could be an issue. When you got into areas where it's not as rocky, we never had any issues whatsoever. But since it was in our own backyard, we wanted to get out ahead of it."
He discussed possible courses of action with Dotson's team, and they first ruled out austempering the casting, which proved to be cost prohibitive, Wilhelmi said. A review of Summers' finite elements analysis (FEA) indicated that adding a small amount of material in the area where the fracture was occurring would provide sufficient additional strength to resolve the issue, so they headed in that direction.
"It was an area where we had a core," added Headington. "But instead of an expensive modification to the tooling to try it, Jake had cores 3D printed that we put in the mold. By doing that, we were able to get samples to them quicker at less cost and they were able to prove them out. Once it was proven that was the fix, then we made the modification to the core box."
Problem solved.
Next?
Success with the trip arm casting reinforces Summers' interest in pursuing future casting solutions. In the past, says Wilhelmi, there have been several instances when his team has explored the possibility of doing a conversion to a casting but he recalls only two occasions where they actually did it. Presently, he's got three possible conversion projects on his radar, none of which demand the amount of welding that the trip arm did. So, the turning point will be when quantities of those components go up to justify casting versus fabrication/weldment.
When they're ready, they know the engineering talent, expedited casting, and collaborative teamwork they require will be right where they left off … at Dotson.